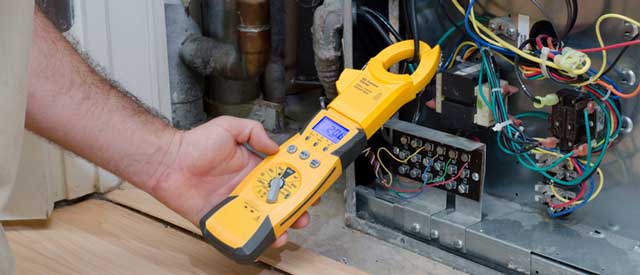 When you need your Phoenix AC unit the most, that's when it is most likely to break. This principle isn't just your imagination – when a HVAC system is working its hardest it's most likely to break. A broken HVAC system can cause temperatures to skyrocket and humidity to escalate rapidly. This can be uncomfortable at best, while be potentially deadly to the very young and elderly.
While you may want to immediately call a repairman to take care of the problem, there are a few things you can do to find out how serious it is.
First, you should check the circuit breaker – in times of storms it might trip, but if this happens often you probably have an underlying electrical problem. From there look at the thermostat – a broken or dead thermostat can cause all sorts of problems such as your unit not turning on, not staying on for the required time, or even shooting out the wrong temperature air.
If you are unsure about the air temperature try measuring with a different gauge, if it doesn't sync up with your thermostat that means it is out of calibration. If this isn't the culprit, check out the airflow – blocked vents or clogged air filters can reduce the effectiveness of an even powerful unit.
If you do find yourself in an emergency, we have HVAC service in Phoenix, AZ, which is available 24/7. To ensure that this doesn't happen to you there are some preventative measures you can take.
Proper Maintenance of your Phoenix AZ HVAC unit
To avoid a catastrophic breakdown you need to make sure you are doing a few things regularly.
Make sure you change the filter at least once a month as a dirty filter can not only damage a unit but increase your power bill.
The outdoor portion of the unit should be kept clean and tidy as well – wash off any dirt and make sure to keep debris and foliage away. All returns and supplies should remain completely unblocked to ensure proper airflow. Nonetheless, regular maintenance by a certified professional should be done annually.
The Phoenix HVAC specialist should always check the thermostat, condensate drain, coils, and other areas. Along with doing thorough upkeep of parts and electrical wires. This is not only great to prevent the AC from breaking down but also helps keep your electric bill down.
What to Expect from your Phoenix Emergency HVAC Service
If you need an emergency HVAC repair for your Phoenix AZ home or business, you don't need to use a second-hand technician. When choosing who you want to go with use common sense – a good technician should have a sense of professionalism, well-maintained tools, and clean clothes.
They should have a broad knowledge of not just HVAC systems, but also of ductwork, plumbing, and electrical.
A certified specialist will look at the unit in its entirety – everything from airflow, refrigerant, condenser coils, and electrical wires.
Often times the problem with a broken down unit is nothing more than a simple cleaning or lubrication of parts. Even more serious issues like electrical repair or part replacement don't necessarily have to cost an arm and a leg. If the repair does come up, a good rule of thumb is that if repairs exceed half the price of the unit's value, you probably want to invest in a new unit entirely.
Regardless of your system – whether it be rooftop package units (RTUs), split systems, or Variable Refrigerant Flow (VRF) systems – a 24-hour emergency HVAC repair is available.
A certified repairman will give you prompt and upfront service, while also treating your home like it is their own. Regardless of the problem, it is highly recommended to follow a planned maintenance procedure to ensure the continuation of a healthy unit for many years to come. Contact us or call 602-344-9924